R.W. Mann & Company, Inc.
Airline Industry Analysis and Consulting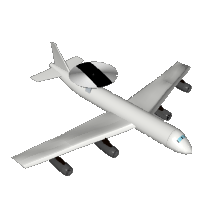 Predator (TM) - "AWACS for airline electronic distribution channels..."
Since 1994, R.W. Mann & Company has worked with Airline Automation, Inc. of Tucson, Arizona (AAI) ( http://www.airlineautomation.com ) and numerous client airlines to process inbound PNR/booking streams and to audit BIDT information from each major CRS vendor. Our efforts have met with success in the form of improved PNR and advance booking (ABK) database quality, enhanced revenue management capabilities and earned revenue, reduced distribution costs, CRS fee refunds from each vendor, and policy changes that benefit all fee-paying airlines.
Both PNR processing and BIDT analyses have yielded useful information: identifying and controlling high cost internal booking practices (waitlist and name-change inhibition, wholesaler block space management) and high cost agency activities (churn, speculative and outright fraudulent bookings). Refunds issued by CRS vendors are governed by "policies" which are neither reasonable nor accurately documented, knowledge of which is essential to ensuring the receipt of justified refunds.
The key to distribution cost reduction has been the development by R.W. Mann & Company and Airline Automation of computer robotics; automated applications that perform various functions faster, more accurately, more efficiently and compreheensively than human agents can. Whereas personnel resources are universally time and ability-limited, PCs run 24 hours/7 days which ensures the job gets done accurately and on-time to ensure maximum benefit and consistency.

The Predator (TM) Advantage
The basic assumption underlying the Predator processor is that abusive and speculative reservations almost never result in a ticket being issued, and that an airline's primary distribution goal, the reason it participates in the various CRS, is to sell tickets and board passengers. The most efficient way to accomplish this is to append to each electronic reservation record a ticketing time limit (TTL). In our experience, virtually no travel agency initiated PNRs include valid TTLs, which account for upwards of 70% of all bookings on most airlines. Though many host reservations systems (e.g. Sabre multihost, EDS/Shares) process TTLs, they often only process those initiated by the airline's reservations staff.
One of Predator's primary functions is to query travel agency PNRs and advise the agency to ticket by a specified day and time, on each PNR with no valid ticketing time limit. To ease the burden on travel agencies and airline reservations staff, agencies advise the airline of valid ticket numbers via OSI messages rather than being required to call it in.
Other Predator tasks are to identify those agency initiated PNRs with expired TTLs and take one of two courses of action; if there is a ticket number in the OSI field, Predator will attempt to validate the ticket number and move it to the ticketing field, and if there is not a ticket number it will take action on it as prescribed by airline policy (presumably cancel it, or if it is within 24 hours of departure take no action but advise management).

Free Trial (yes, it's FREE... but only for a limited time...)
Our purpose in offering this service free for a limited time to selected airlines utilizing Sabre and EDS reservations hosts (we will discuss porting the software to other reservations hosts, at a cost to be determined) is to provide an opportunity for airlines to evaluate Predator benefits. We have developed identical services for other airline clients on a customized basis, and they demonstrate great efficiencies and effectiveness. We are presently providing this service as an "off the shelf" product. At the end of a 60 day trial period, both parties can either agree on a pricing structure to continue, or elect to discontinue. There is no obligation for either party beyond the 60 day trial.
Demonstrated Predator benefits are: a reduction in "no-show" percentages and a comprehensive process by which to reduce the number of invalid bookings held on the airline's books.

Control theory: feed-back and feed-forward enabled
In addition, we are able to incorporate information from extensive BIDT analysis into Predator, and vice versa, to improve primary controls, and highlight those agencies generating high transaction volumes and high costs for the airline, relative to ticketed revenue. True control-loop technology.

More Value Added... the basis for a true, Revenue Integrity program
If an airline chooses to continue with Predator, AAI would utilize BIDT information to determine which agencies' bookings airline management may wish to more closely scrutinize. For example, when we determine that several agencies have a demonstrated tendency to generate high cost PNRs (those generating a net cost per segment, in excess of $9 or as otherwise defined), we provide those agency IATA identifiers to Predator for added PNR screening.
Based on knowledge that bookings from these agencies are potentially high cost bookings, Predator provides the airline's Sales and Revenue Management groups with additional value added by:
- generating periodic summaries of those agencies' booking activity, for regular scrutiny, and
- immediately highlighting suspect activity, affording the airline an opportunity to contact the source for corrective action.
Predator can also be customized to scan for:
- inventory/ticketing class match,
- duplicate live and passive segments (PK),
- duplicate on-flight, in-market, on-O&D and cross-Alliance bookings and
- fictitious name bookings,
- all on a pre-departure basis.
All these Predator controls and filters improve the quality of the airline's advance bookings, reduces seat spoilage, enhances revenue and policy guidelines and reduces distribution costs.

"The Catch"
The only requirements on the part of a prospective airline user are to provide AAI with policies on enforcing TTLs, access to the airline's partition on Sabre/EDS multihost, and to order a Sabre/EDS drop.
AAI is able to start Predator prior to the installation of a dedicated Sabre drop utilizing AAI's own proprietary SABRE access, but beyond the initial 60 day trial period, the airline must provide its own drop.
Thatís it. There are no other requirements, and no down side at all.
(Non-Sabre/EDS hosted airlines may call for availability of other host functionality, or for a quote on porting the Predator package to their inventory system.)

Predator, anyone?
If cost and occasionally, other pressing priorities were not issues, any airline could be well-served by assigning flight firming tasks to a large reservations staff. R.W. Mann & Company and AAI Predator technology functionality eliminate the need for this larger staff, yet actually provide the airline with enhanced benefits.
Our 60 day free trial (see notes) allows an airline to experience the benefits of Predator at no risk.
To see the current version of Predator and its potential, see: http://www.airauto.com/aai/predator/index.htm